Katie Waldron, graduate of the Illinois Center for Broadcasting (ICB), came to campus to share her experiences with current students. Kati works as the Traffic Manager for Next Media. While enrolled in the program at ICB, Kati interned with Q101.
Waldron spoke to students about the importance of keeping an open mind and working hard while in school at ICB. She discussed her time spent interning with Q101 The Loop in their promotions department. She encouraged students to be open to opportunities off the air, and to work in various departments. While working in promotions she was able to attend and help with all events sponsored by the station and said it was a perfect way to network.
She reiterated the high volume of jobs in the media and broadcasting industry. She never knew she would be working in traffic one day, but is very happy! Waldron said web design departments of media stations are growing more than ever. She said to work your way through different departments, gain experience, add to your demo reels, and build your resume.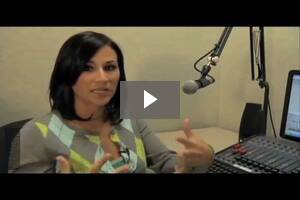 Waldron said, "Work your hardest at your internship, at your job, no matter what it is, because then you're going to get noticed." People will see you are working hard and want to promote you. She told students at ICB to show others they are capable and engaged in their work.
Waldron stressed the speed at which the program moves and that getting an internship as soon as possible will help out tremendously. She encouraged students to work hard to complete their out-of-class hours so that they develop skills early, and have time to work on additional projects.
Waldron left current students and prospective students with a message. She said, "Be passionate! It will get you somewhere!"
Waldron inspired students. She serves as a true example of what can be accomplished at the Illinois Center for Broadcasting with hard work and dedication. If you want to see more speakers such as Waldron, intern in the broadcasting industry, and start your career in less than one year… ENROLL NOW, call 630-916-1700 or text O'Hare to33239!