Lisa Fielding, a graduate from Bradley University in Peoria and currently working as a news reporter for WBBM-AM Radio dropped by the La Salle campus at the Illinois Center for Broadcasting on Wed. May 29, 2013 to discuss her twenty-five year career as a TV and radio reporter.   Lisa has worked for radio stations in Rockford as well as TV stations in Peoria, Rockford, Madison, and Milwaukee prior to her returning to radio as a correspondent for CBS News, 780-AM, Chicago.
Besides broadcasting, Lisa also was one of the few female public address announcers in the U.S. for minor league baseball and was a contender to succeed Wayne Messmer as the public address announcer for the Chicago Cubs.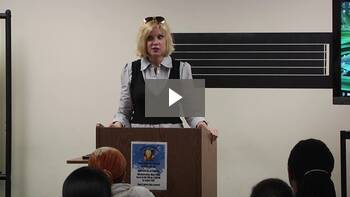 Lisa noted how she took a hint from her Mom to consider broadcasting as a possible career.  Lisa on a lark called a TV station to see if she could be an intern.  To her surprise,  she was told to report the following Monday.  Lisa credits that internship with getting her "feet into the fire," and becoming a broadcaster.   Before she knew it she was interviewing political figures like the Mayor and learning the ropes even though sometimes she made mistakes and got yelled at by an anchor at the station.
Lisa shared with ICB students how the business is evolving as social media websites and twitter rapidly has changed how news is reported and how stories are broken by journalists.  Today, it is imperative that even radio news reporters know how to operate video cameras for material placed on the radio's websites as well as sharing information immediately via video.  The impact that social media has had on the broadcast industry is still evolving and twitter has yet to reign in whether the information disseminated immediately is also accurate – a hallmark of a credible journalist.
Radio is in Lisa's opinion, "constant – a 24/7 production"  that invites the citizen journalist to call in and share the news of a fire that may have broken out or inclement weather conditions that affect the public,  as  was the case of the 2010 winter weather storm that stranded thousands on Lake Shore Drive.
Lisa suggested to ICB students that they consider working in a small market to learn the business, "make your mistakes there and work your way up in the business."  She noted that contrary to what some people say, there are plenty of jobs in broadcasting for those that want to pursue a career as a reporter or journalist. Lisa portrayed an honest reflection of the industry and its demands that require broadcasters work weekends and holidays at times.  However, Lisa also pointed out that even with that sacrifice, "it is so worth it," working in the industry because there are so many things one gets back in the business, especially, "if you're a journalist."
On behalf of the students of the Illinois Center for Broadcasting, Chicago Campus, thank you Lisa Fielding for taking time to share your knowledge of an industry that's fun to work in, rewarding and challenging and a profession that helps to make life better.    You can follow Lisa on FB or via twitter @Lisa_Fielding  and of course you can hear her work as a journalist on WBBM-AM-780 and WBBM-FM 105.9.
If you're interested in Broadcasting or attending guest appearances, please signup here.